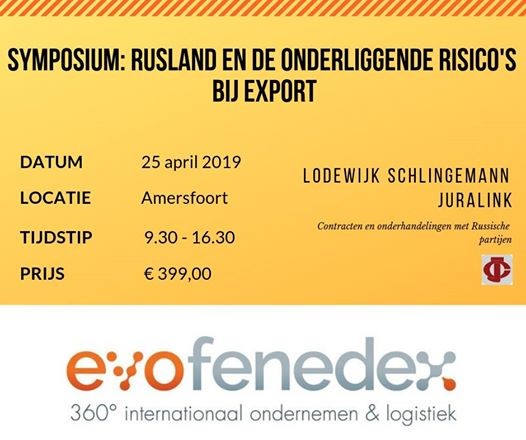 We would like to invite you to the Russia Seminar of EVOfenedex on 25 April in Amersfoort!

Create your own program by choosing from inspiring, instructive and practical workshops. The speakers are all specialists within their own field and most of them have more than 15 years of experience in doing business in Russia. One of the speakers is Lodewijk Schlingemann from Juralink. He will discuss "contracts and negotiations with Russian parties".

You can also request a personal consultation of 25 minutes. The advisory meetings take place before and after the symposium. You can indicate your preference on the registration form. Would you like to have a chat or do you have questions to one of our speakers? You can meet the speakers directly at the seminar or afterwards, enjoying a drink.
Customers or relations of Juralink can subscribe for the membership price of 299.00 euros. Please do mention the special code: WMRU

More information is available on https://www.evofenedex.nl/evenementen/symposium-rusland-en-de-onderliggende-risicos-bij-export